2023 4Runner vs. 2023 Acadia
The 2023 Toyota 4Runner is a strong competitor in the midsize SUV market if you want a sturdy, reliable vehicle with proper off-roading abilities. Many midsize SUVs are on the market, such as the 2023 GMC Acadia, but few can cope with true off-roading. This goes to show that not all midsize SUVs are alike.
The 2023 4Runner is based on the fifth generation of the nameplate and features proper old-school body-on-frame construction. The 2023 Acadia is based on its second generation and features unibody construction. Notably, both vehicles have truck-like looks for those who desire this style.
How does the 2023 4Runner compare with the 2023 Acadia? In this Toyota vs. GMC matchup, let's review their respective interior, performance, and safety characteristics. And if you want to see the new 4Runner in the metal, call the team of Toyota of Ardmore in Ardmore, OK.
Interior Comparison
The 2023 4Runner comes as a five-seat SUV as standard, with an optional third row that is best suited for children. The same can be said of the 2023 Acadia. While the 4Runner offers 96 cubic feet of passenger space, less than the 2023 Acadia, it counters with a larger 46 cubic foot trunk and proper fold-flat third-row seats if chosen. Furthermore, you can spec an optional pull-out cargo deck that's sturdy enough to double as a tailgate to sit on!
The 2023 4Runner and the 2023 Acadia offer automatic climate control and touch-screen infotainment systems with Apple CarPlay® and Android Auto™ support across all variants. Furthermore, the 2023 4Runner also includes a subscription-based Wi-Fi hotspot and an optional 15-speaker JBL sound system that sounds excellent.
Toyota 4Runner Interior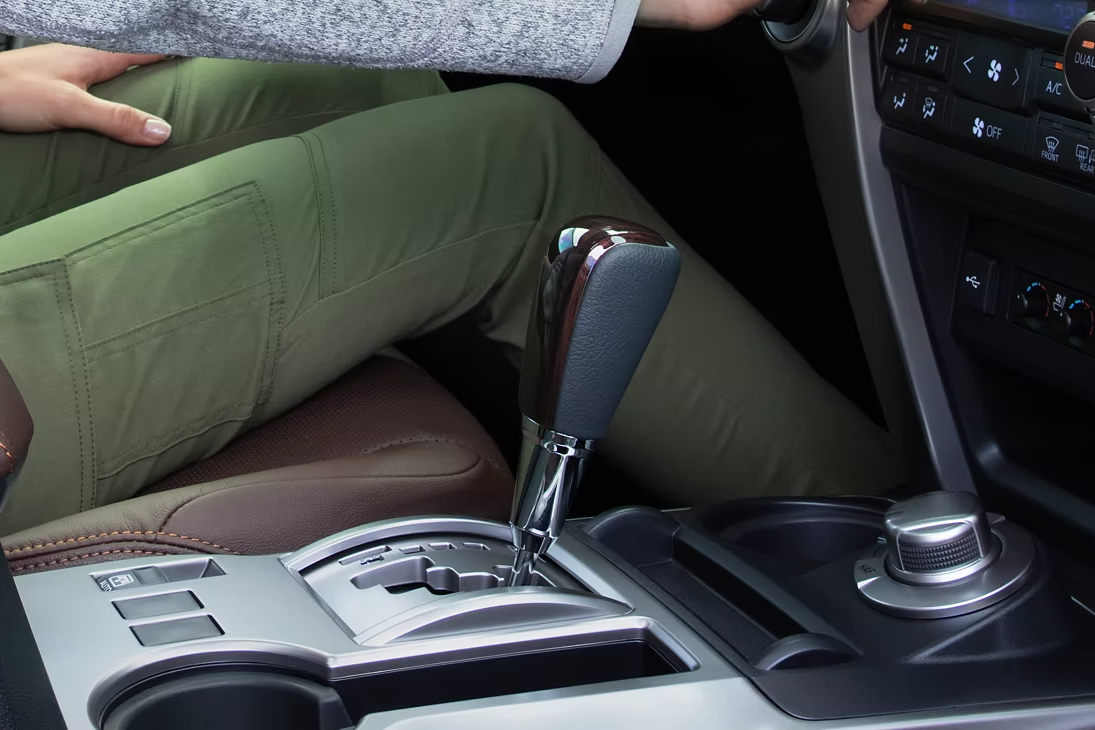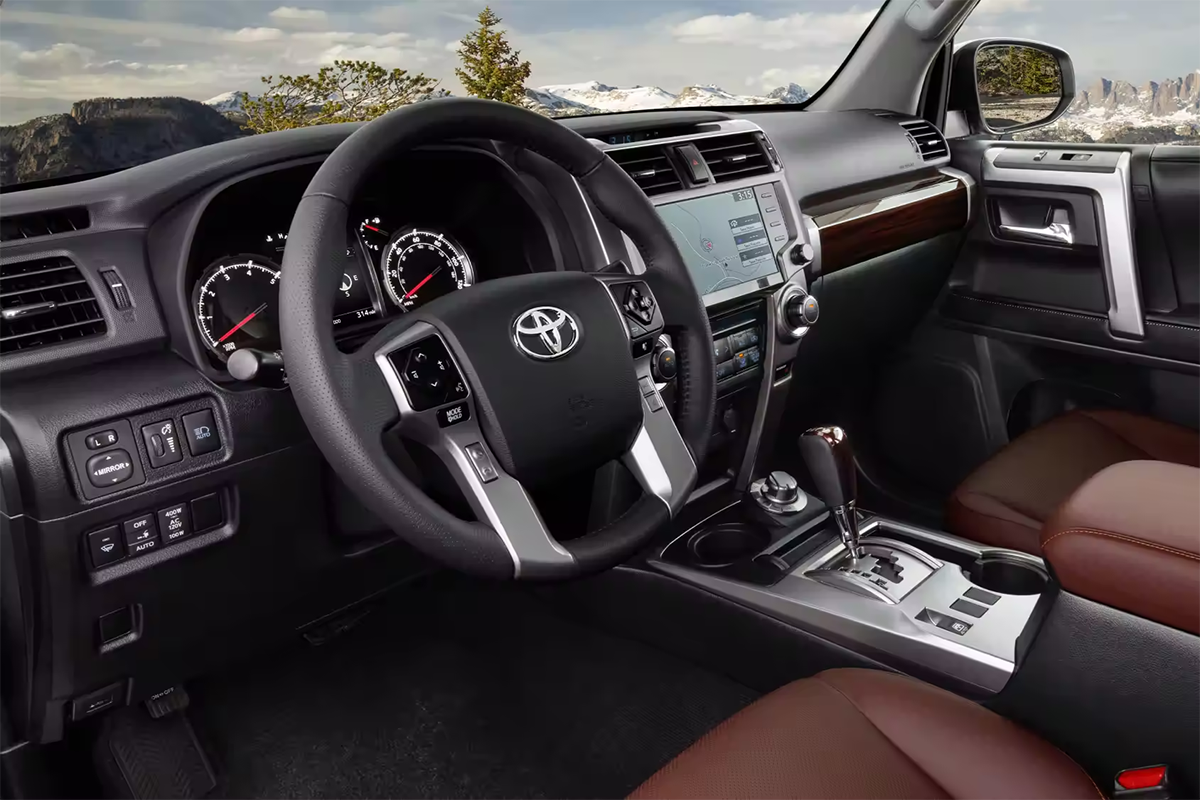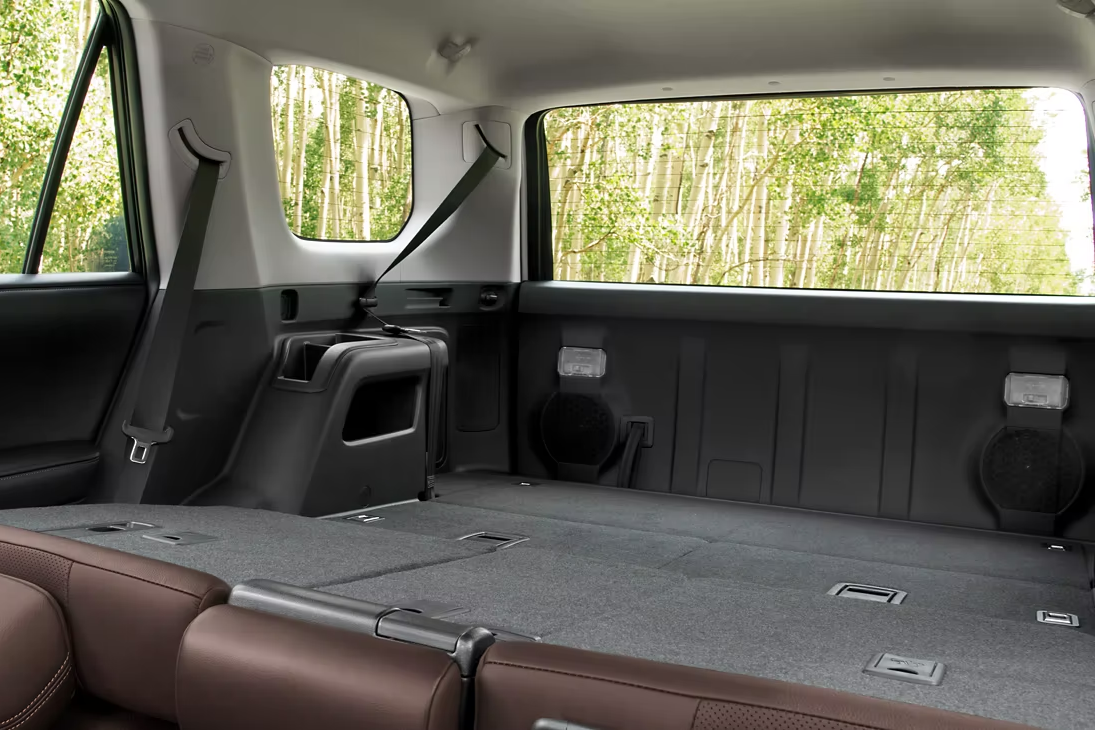 GMC Acadia Interior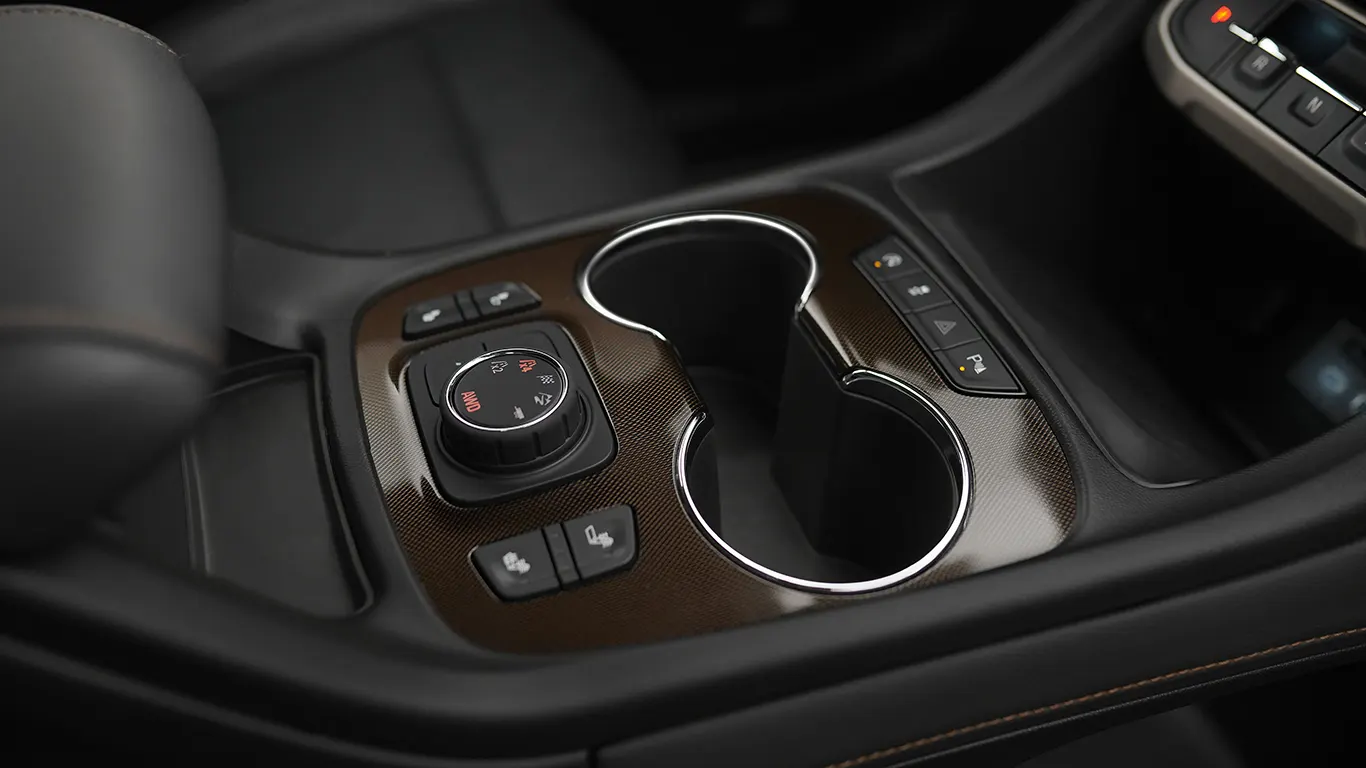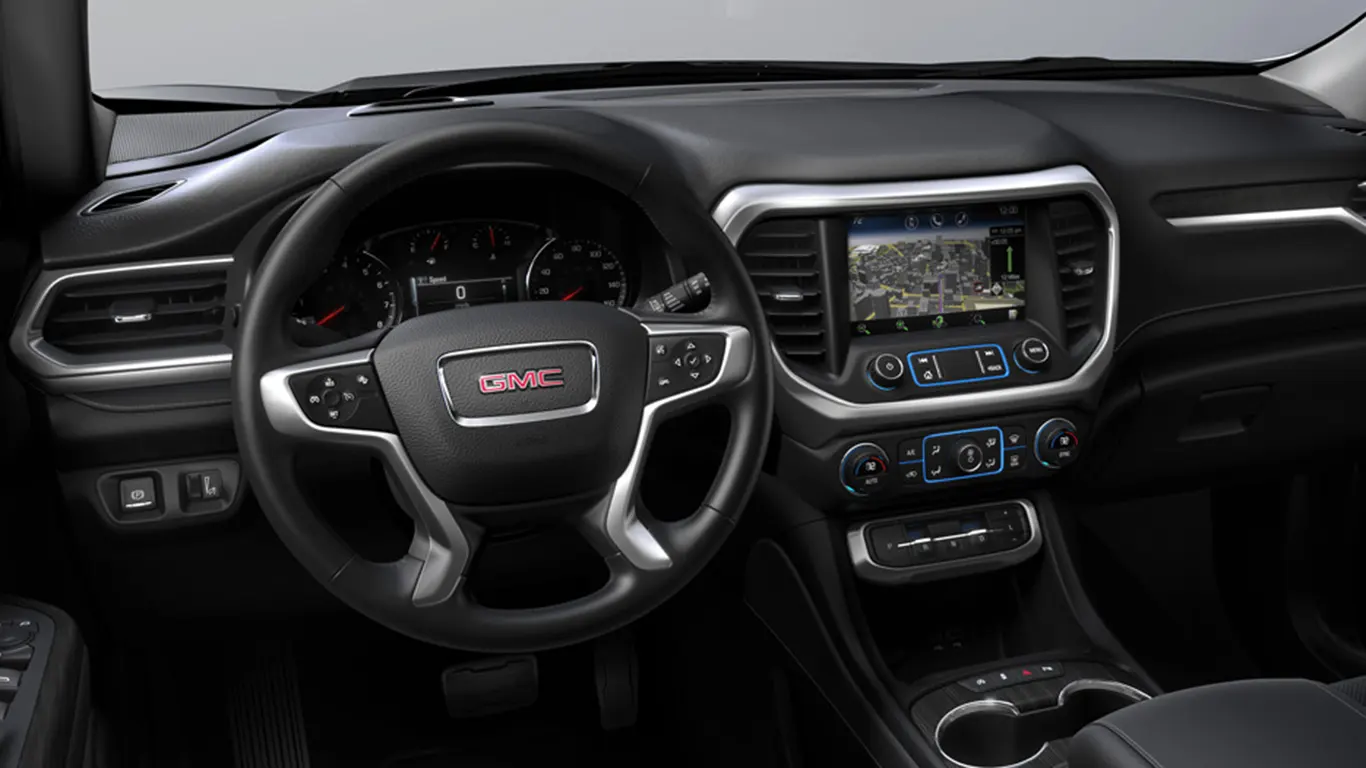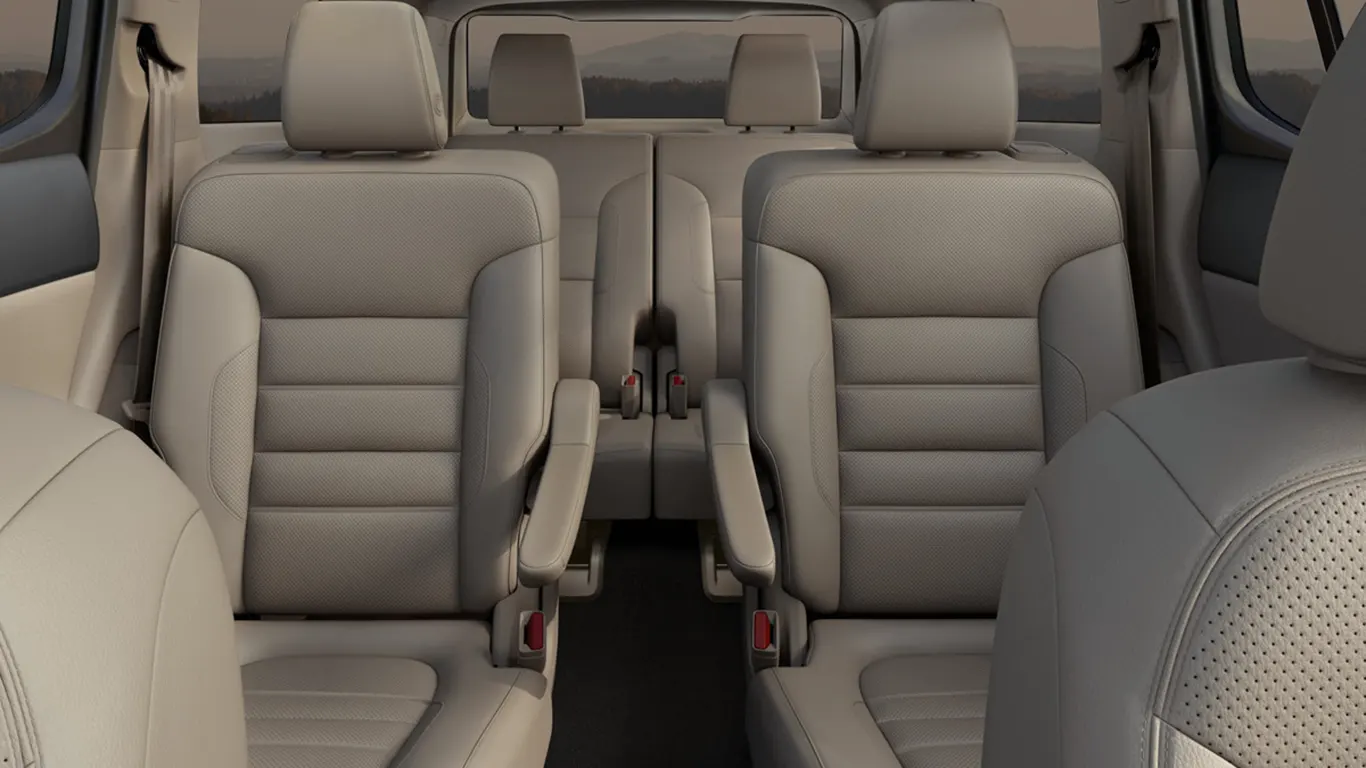 Performance Comparison
A reliable 4.0-liter V6 powers all 2023 4Runner variants. Delivering 270 horsepower, it's paired with a five-speed automatic transmission. It can go from rest to 60 in 7.7 seconds, according to Car and Driver's testing. Yes, it's not the most cutting-edge. However, the 2023 4Runner's performance aspect isn't just about its powertrain.
The 2023 4Runner features body-on-frame construction, which grants it impressive off-road prowess. While it comes with rear-wheel-drive as standard, you can option a full-time or part-time four-wheel-drive system if desired. This allows the 2023 4Runner to venture farther off the beaten track than most midsize SUVs. Furthermore, TRD variants receive an electronic locking differential, crawl control, and a Multi-Terrain select system. Improved wheel articulation can be availed if you select the optional Kinetic Dynamic Suspension system.
The 2023 Acadia offers a 2.0-liter turbo four with 228 horsepower or a 3.6-liter V6 with 310 horsepower. A nine-speed transmission and front-wheel-drive are standard, and an all-wheel-drive system is optional. Even with this, the 2023 Acadia is not an off-road-friendly machine. The most you can subject it to will be an occasional curb, flattened gravel road, or a grassy field. Don't expect it to venture into the rough as the 2023 4Runner can.
Safety Features Comparison
The 2023 4Runner has airbags, adaptive cruise control, daytime running lamps, stability control, brake assist, forward-collision warning, automated emergency braking, lane-departure warning, and lane-keeping assist as standard features. The 2023 Acadia offers all this as standard, except for adaptive cruise control.
Find the 2023 4Runner in Ardmore, OK
If you want a midsize SUV strictly for on-road use, choose the 2023 Acadia. However, if you want a vehicle that can handle any type of road, plus take you into the wilderness, tackle some off-roading, and bring you back to safety, the 2023 4Runner is clearly the better midsize SUV option. So swing by Toyota of Ardmore in Ardmore, OK, and check out the new 4Runner today.