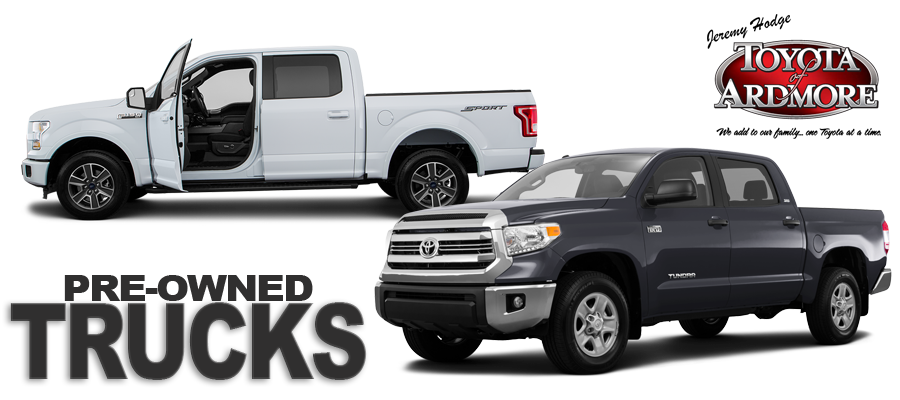 Used Trucks for Sale near Ardmore, OK
Whether you're searching for a truck that will carry you and your family around town or a truck that will haul endless cargo back and forth, you'll find that Toyota of Ardmore has a large selection for you to choose from. Purchasing a pre-owned truck with us will help you save some of your hard-earned money for other things you might enjoy.
Our pre-owned truck inventory usually features regular cab, double cab, and crew cab models. Browse our website to narrow down your choice. We provide filters such as year, make, mileage, price, and more to make your search easier. Once you've made your selection, stop by and visit us to take a test drive. Our employees will gladly show you around.
Residents in Ardmore, Wichita Falls, and Gainesville all agree: Our dealership offers a convenient location and provides a wide range of used trucks for shoppers to choose from. We are located at 402 Holiday Drive, Ardmore, OK 73401. Come visit us today.
Buy Pre-Owned Trucks in Oklahoma
Still not convinced purchasing a used truck is for you? Let us ease your mind. Our well-trained technicians thoroughly and efficiently inspect every vehicle that we receive. If any problems arise, we immediately take care of them. Your safety is important to us, so rest assured that when you get behind the wheel of your truck, you and your family will be safe.
Feel free to contact us at (844) 846-7601 if you have any questions. Our staff is more than happy to assist you.
Truck Service & Maintenance Centers at Toyota of Ardmore
You're outside playing football with your buddies when suddenly…
SNAP.
You hear it. Everyone else hears it. You instantly know your leg is broken. There's a place you go when that happens; it's called the emergency room.
Where do you go when that happens to your truck? When you have a flat tire, a damaged headlight, or simply need routine maintenance, you'll find that Toyota of Ardmore will be able to help.
Our service center is staffed by well-trained specialists who can handle maintenance and repairs. While you're waiting for your truck to be serviced, you won't have to sit in a damp, dreary waiting room. We provide a comfortable lounge that even includes free coffee and free Wi-Fi.
So, the next time your brakes begin to feel "off" or you're in need of an oil change, consider stopping by our dealership so we can take care of you and get you back on the road in no time.
Visit our convenient location in Ardmore, TX, today. We look forward to assisting you.